Registration Open Date
December 1, 2022
Official Point of Contact
Mike Ripley mike@mudslingerevents.com
Time Limits and Cut Offs
The Ring of Fire name refers to the Cascade Mountains and the Volcanos part of a 25,000-mile Volcanic area in the Pacific Ocean Basin called the Ring of Fire.
Embrace the lava and all the fantastic singletrack and the opportunity to have one great late-season race in Bend, Oregon, and finish with a smile.
Event Limits
The total participant limit is: 200 for the 60 miler
Race Fee Information
160.00 early prior to 5/31
Custom "For the Love of Lava" Soft Blend T included, and Pint glass, with two aid stations and a unique course late in the season in Bend, Oregon
Payout Information
TOP 3 awards in all 9 Categories for 100K 
Cash: 350, 250, 150 Men and Women for the 100K only
10 Barrel Brewing Pizza fest included
Venue Atmosphere
Late-season racing/riding in Bend, Oregon, is always a special treat. Singletrack conditions historically improve as we enter fall, with crisp mornings and shorter days.
One can say this event is the little brother or sister to the High Cascades 100 earlier in July, with a unique loop featuring 75% singletrack starting at 4800 ft at Wanoga Snow Park.
Views of Mt Bachelor and the surrounding ponderosa pine, juniper, and fir will encase your senses for one challenging and rewarding day.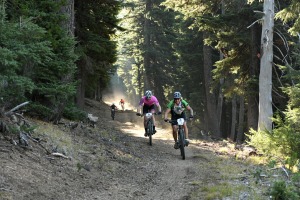 Course Map
See Website as we update the 2022 map